The LALIZAS Force proved to have the most dominant presence at METSTRADE 2019!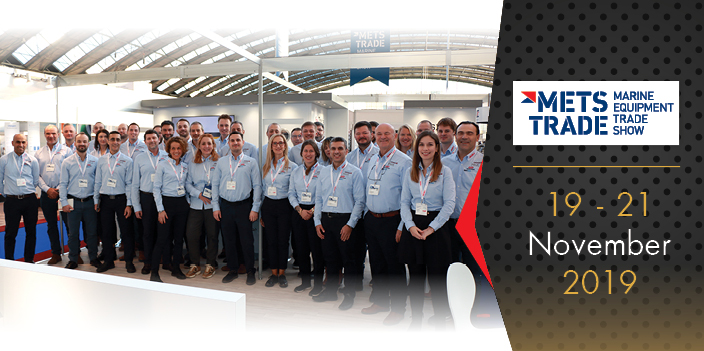 26-11-2019
36 LALIZAS experts travelled from 8 different countries, to the Netherlands in order to be part of the METSTRADE Show 2019.
The trade fair took place in Amsterdam from 19th to 21st of November, gathering all key players from the marine leisure industry. Over 1,650 companies from at least 55 countries participated at this industry-leading B2B event.
The LALIZAS Group was proudly exhibited at the show with its valuable members from LALIZAS, Lofrans', MAX POWER, Nuova Rade, and OCEAN Fenders, having 5 different stands in both the METSTRADE Show area and the SuperYacht Pavilion.
Being at the show for 26th year in a row, the group launched products and also introduced great new initiatives which received high appreciation by all visitors who passed by and stopped at our stands.
Once again, our group of companies was ready to cover all needs regarding an excellent boating experience, offering services and appliances from ultimate safety on board to maximum boat's control.
A selection of our top level products for the year of 2019 was presented to all people of interest alongside new as well as redesigned products for the year to come. We happily shared our latest news through the brand new LALIZAS Newspaper, which spreads the word about our key actions, that impact the industry.
Among other valuable news, the group made a surprise announcement about its latest and strategic acquisition of ARIMAR, a European leader in the production of state-of-the-art life rafts. People's engagement was more than positive and the news had immediate release.
The popular and long-awaited Ouzo Party was held once more during the second day of the show, being the most successful one, as people's attendance was higher than ever.
In terms of products, the new ultra-light ISO RACING life raft was a point of reference for the LALIZAS brand, and so was the redesigned double fender valve for OCEAN Fenders.
The new catalogue of MAX POWER with options that guarantee "maximum control" of all boats' maneuverability and a new way of display on site set the discussion on.
"The original windlass" manufacturer, Lofrans', also used a new way of product display for the best possible presentation, and Nuova Rade' s high quality Italian-made equipment, displayed on our newly designed stands, made the difference.
The LALIZAS Group of companies is more than honored to serve its values globally and spread its expertise through maritime exhibitions around the world, having the chance to collect partners' feedback, listen to market needs and respond to them with immediate actions.
We are all set for METSTRADE 2020 and many more upcoming exhibitions!